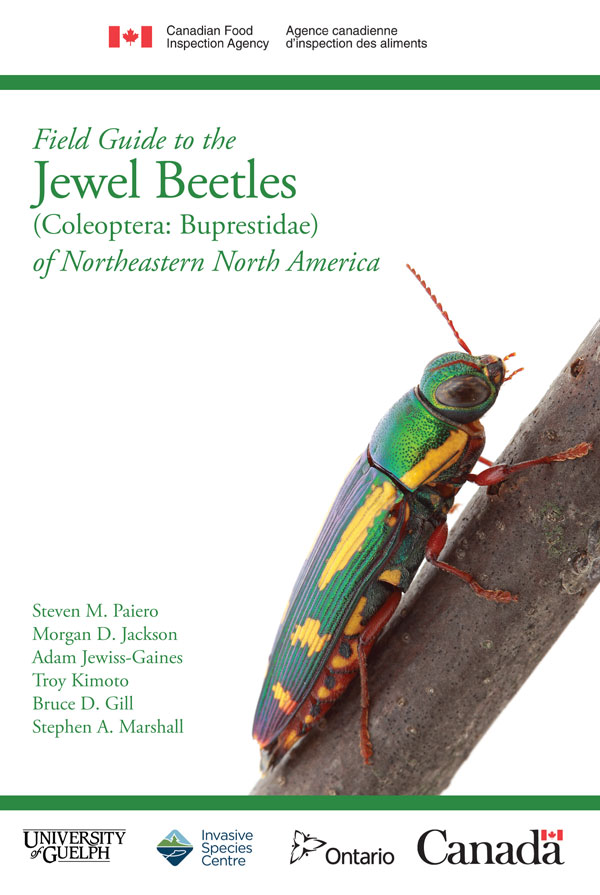 Have you ever seen a colorful, shiny beetle and wondered what it was?  I have.
There's a group of beetles called Jewel Beetles that eat trees but are very beautiful.  Among them are the rainbow green Emerald Ash Borer and (perhaps) a solid green iridescent beetle I see in the spring whom I've dubbed The Emerald Green Bug because I don't have a beetle guide.
But that problem is about to be solved.
In early 2013 the Canadian Food Inspection Agency, the University of Guelph Insect Collection and the Canadian Invasive Species Centre are going to publish a beautiful 411 page, 6×9″ Field Guide to the Jewel Beetles of Northeastern North America.
The guide covers 164 jewel beetles in eastern Canada and the northeastern U.S. including all of Pennsylvania.
One of the books authors, Morgan Jackson, describes the guide here on his blog and includes a cool slideshow of the emerald ash borer page.  I can tell the book is for bug lovers and entomologists yet it looks easy to use for generalists like me who are curious about the natural world.
And the book is FREE, absolutely FREE!
Click on the book cover or here to read Morgan Jackson's blog and see if this is the book for you.  His blog tells you how to get your free copy.
I've already ordered mine.  Next spring I'll know the real name of that "Emerald Green Bug."
(cover of Field Guide to the Jewel Beetles of Northeastern North America, linked from Morgan Jackson's biodiversityinfocus.com blog)