1 October 2022
Last week, after a four-year hiatus, my husband and I enjoyed revisiting Acadia National Park. The scenery was beautiful and even the fog was gorgeous, as shown in the slideshow above. Jordan Stream was in full flow after a long day of rain.
We also learned a few things about Acadia and ourselves in 2022.
The park is jam-packed with visitors even in late September. Labor Day used to be the last big weekend — which is why we visited in mid/late September — but the number of people and cars on 23 September rivaled anything we'd seen in the past.
I used to drive up Cadillac Mountain on a whim to visit the Acadia Hawk Watch but now all visits are by reservation, reviewed at the checkpoint at the base of the mountain. The photo below shows why reservations are required. We did not visit Cadillac.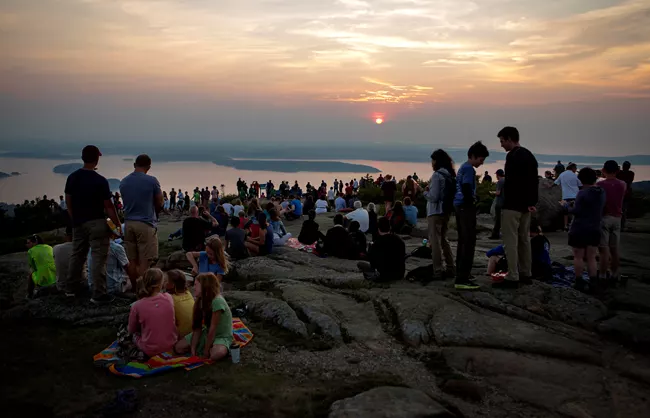 Four years ago we still climbed the mountains. This year we climbed a low one — less than 300 feet above sea level — and did not enjoy the challenging bits. Perhaps we are out of shape … but I think four years makes a difference at our age. Alas.
Seven days were too short for a vacation to Acadia because it takes so long to get there, even by air.
Acadia will be busy through Columbus Day weekend and perhaps beyond. Fall color still hasn't peaked yet.
(photos by Kate St. John)