3 October 2023
… and there's a Pittsburgh connection.
When you make coffee, what do you do with the spent grounds? Some people compost them at home or use them as fertilizer. You can even turn them into an insect repellent or natural cleaning scrub. But most of us just throw them away.
When Michael Rivera was in grad school at Carnegie Mellon he spent a lot of time at Arriviste Coffee Roasters in Shadyside. At the time, Arriviste paid a service to collect their coffee grounds but the service stopped during the pandemic and the spent grounds piled up.
Rivera was working on 3D printing technology and saw how to solve two problems at the same time: (1) Reuse coffee grounds instead of throwing them away and (2) Reduce plastic use in 3D printing.
The vast majority of 3D printing machines use thermoplastic to make new objects by melting it and reforming it with the print head.
It can take a lot of plastic to make an object, particularly a large one.
Rivera is now a postdoctoral researcher at University of Colorado Boulder where he further fleshed out his idea of using spent coffee grounds instead of plastic.
Rivera and colleagues mix dried spent coffee grounds with two common food additives — cellulose gum and xanthan gum — and then mix in water.

"You're pretty much shooting for the consistency of peanut butter," Rivera said.

You can't load that ooze directly into a 3D printer. First, Rivera does a little jury-rigging, modifying a printer with plastic tubes and a syringe filled with coffee paste. When dried, the coffee grounds material is about as tough as unreinforced concrete.

— Science Daily: 3D printing with coffee: Turning used grounds into caffeinated creations
Here's a coffee-based 3D print, photo embedded from the Ars Technica article.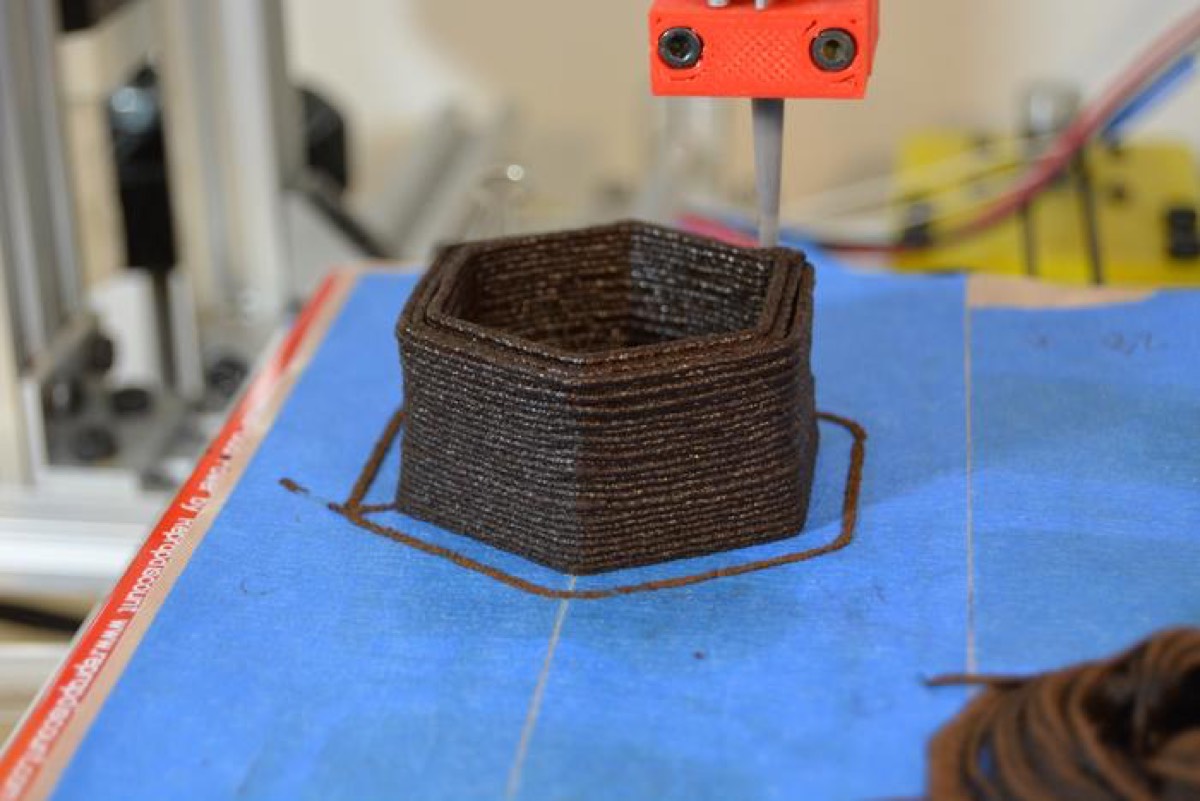 The resulting objects are completely recyclable.
"You can make a lot of things with coffee grounds," River said. "And when you don't want it anymore, you can throw it back into a coffee grinder and use the grounds to print again."

— Science Daily: 3D printing with coffee: Turning used grounds into caffeinated creations
Here's how Rivera and his team make 3D objects with coffee grounds.
Read more about the project in Ars Technica: Don't throw out those used coffee grounds—use them for 3D printing instead and the published study in July 2023 in the Association for Computing Machinery.
p.s. Does the reuse of coffee grounds sound familiar? I blogged about it a few weeks ago but forgot to mention it until Jennie Barker made the comments below.
(photos from Wikimedia Commons, Kate St. John, Arriviste Coffee Roasters Facebook banner, and embedded photo from Ars Technica; click on the captions to see the originals)